Required files:
Step 1 - Ragray
Visit
ragray
and look for the client with the
Latest!
mark. See picture below.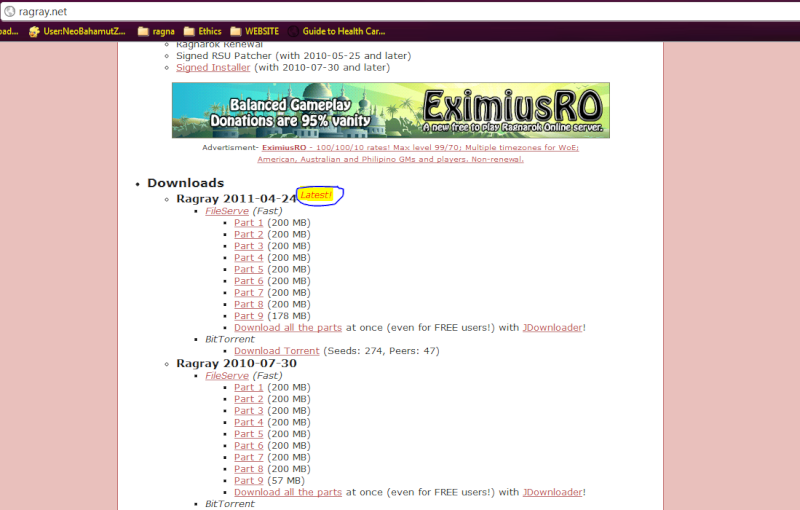 You have the choice to either download ragray in several pieces from their website or using rapidshare which is time consuming or you can download the single torrent file and use a torrent client such as BitTorrent, µTorrent, Vuze, etc. with no effort or trouble at all.
Note
: If you choose to download the torrent it's missing the last part so you'll have to download it from their website or rapidshare.
Once you've finished downloading, you'll need a program that combines the .rar files and extracts the ragray installer such as 7-Zip or Winrar. Once winrar is installed, open one of the parts of the ragray .rar files that you downloaded and click extract.
It'll prompt you with a statement, select the first option to process all files in all the volumes and it'll begin extracting the ragray installer. See picture below.
After extracting, double click the RAGRAY-FULL.exe installer. It'll take a couple of seconds to open and click the I Agree button.
It'll bring you to the next screen which deals with the different parts you're given an option to install. It's unnecessary to mess with it unless you know what you're doing or what you need.
Don't touch anything
and press the Next button.
It'll allow you to select a destination folder to install Ragray. It's best left untouched unless you know how to patch it using this server's patch. Click the Next button once you're done.
It'll begin installing and show progress. Once finished, close it.
Step 2 - DangoRo Lite
Go to
http://dangoro.webs.com
and click on downloads.
Download the DangoRo Lite.
After downloading, open the rar/zip file then click on extract to.
Find your RO directory this is where you extracted the ragray files. Then extract.
If something like below appears just click replace all.
Once you have finished extracting, double-click the DangoRO Patcher (
this is a must! to avoid errors
) and let it patch.
Once the patch is finished, you may now start playing the game. =)
Enjoy!