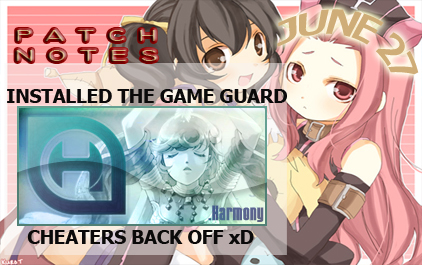 Installed the Game Guard: HARMONY.
Harmony blocks a broad range of cheat tools:

WPE

rPE

OpenKore

SpeedGear

Breakneck

RO Medic

Cheat Engine
and other commonly used software. As of the latest version, basic routines against AutoHotkey are also included, which will be extended in future releases. Additionally, several low-level attack patterns (e.g. memory modifications) are observed and blocked.
DONT FORGET TO PATCH AND FOLLOW INSTRUCTION:
1)
Download and extract
it to your Dango RO folder

http://www.mediafire.com/?8n10lqso90snnyt

2)
Download and paste
it to your Dango RO folder

http://www.mediafire.com/?5vazap203pc166u

Last edited by Admin on Wed Jun 27, 2012 7:14 pm; edited 1 time in total