In order to provide to you the best service and offer you the best gaming experience, we need to constantly maintain and update the server. If you want to help us pay the fees, you are most welcome to donate.
If you decide to donate, please read carefuly our donation policy presented below which states important points that need to be respected at all times.
You may donate via
Western Union
.
You will gain suitable items as a reward for your help.
This is not compulsory.
GUIDELINES
:
Only 18 years old and above can use this payment method

Go to Western Union Branch and bring at least ONE VALID ID

Ask them for the "Send Money" form

Fill up the form with the details below:
-Name: Kenneth Racho
-Address: Tondo, Manila
After that, send the following info to
dango_ragnarok_online@yahoo.com
:
MTCN: (this is IMPORTANT, you can see this at the receipt, it will be given to you after your payment in the cashier, DO NOT LOSE THIS!)


Username(in game):


IGN (in-game name): name of the character where you wish to see your item upon logging in


Sender's Name:


Your Address:


Amount Sent:


Item/s you wish to be rewarded.(You may pick from the Donation Items tab)
Note
:
Kindly inform KeyTee or wenks in-game, whoever is online, that you have made a transaction. To avoid scam or hacks ask them to wear the GM Logo or the GM jacket - these items can only be worn by GMs. We will never ask for the transaction details in-game.
Once the transaction is confirmed the item/s will be generated to your account.
Thank you very much for your generosity!

Sample Western Union Fill-up Form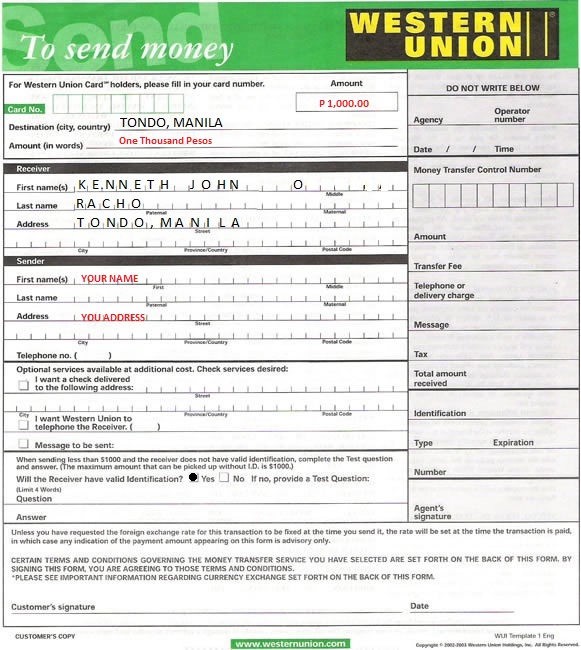 For transaction tracking follow this site:
https://www.westernunion.ph/asp/orderStatus.asp?language=tl